MuddyWater is a relatively new APT that surfaced in 2017. It has focused mainly on governmental targets in Iraq and Saudi Arabia, according to past telemetry. However, the group behind MuddyWater has been known to target other countries in the Middle East, Europe and the US. We recently noticed a large amount of spear phishing documents that appear to be targeting government bodies, military entities, telcos and educational institutions in Jordan, Turkey, Azerbaijan and Pakistan, in addition to the continuous targeting of Iraq and Saudi Arabia, other victims were also detected in Mali, Austria, Russia, Iran and Bahrain.. These new documents have appeared throughout 2018 and escalated from May onwards. The attacks are still ongoing.
The new spear-phishing docs used by MuddyWater rely on social engineering to persuade users to enable macros. The attackers rely on a range of compromised hosts to deliver their attacks. In the advanced stages of this research, we were able not only to observe additional files and tools from the attackers' arsenal but also some OPSEC mistakes made by the attackers.
Previous related research:
https://sec0wn.blogspot.com/2018/05/clearing-muddywater-analysis-of-new.html?m=1
https://reaqta.com/2017/11/muddywater-apt-targeting-middle-east/
https://blog.malwarebytes.com/threat-analysis/2017/09/elaborate-scripting-fu-used-in-espionage-attack-against-saudi-arabia-government_entity/
https://www.sekoia.fr/blog/falling-on-muddywater/
Decoy images by country
Jordan
Turkey

| | |
| --- | --- |
| Turkey's General Directorate of Security (Onemli Rapor.doc) | Turkey's Ministry of the Interior (Early election.doc) |
Saudi Arabia
Azerbaijan
Iraq
Pakistan

Afghanistan
Technical details
Below is a description of the malware extraction and execution flow, starting from the initial infection vector, running VBA code via a macro and then dropping the PowerShell code that establishes command-center communications, sends victim system information and then receives commands supported by the malware.
The initial infection vector
The initial infection starts with macro-enabled Office 97-2003 Word files whose macros are usually password-protected to hinder static analysis.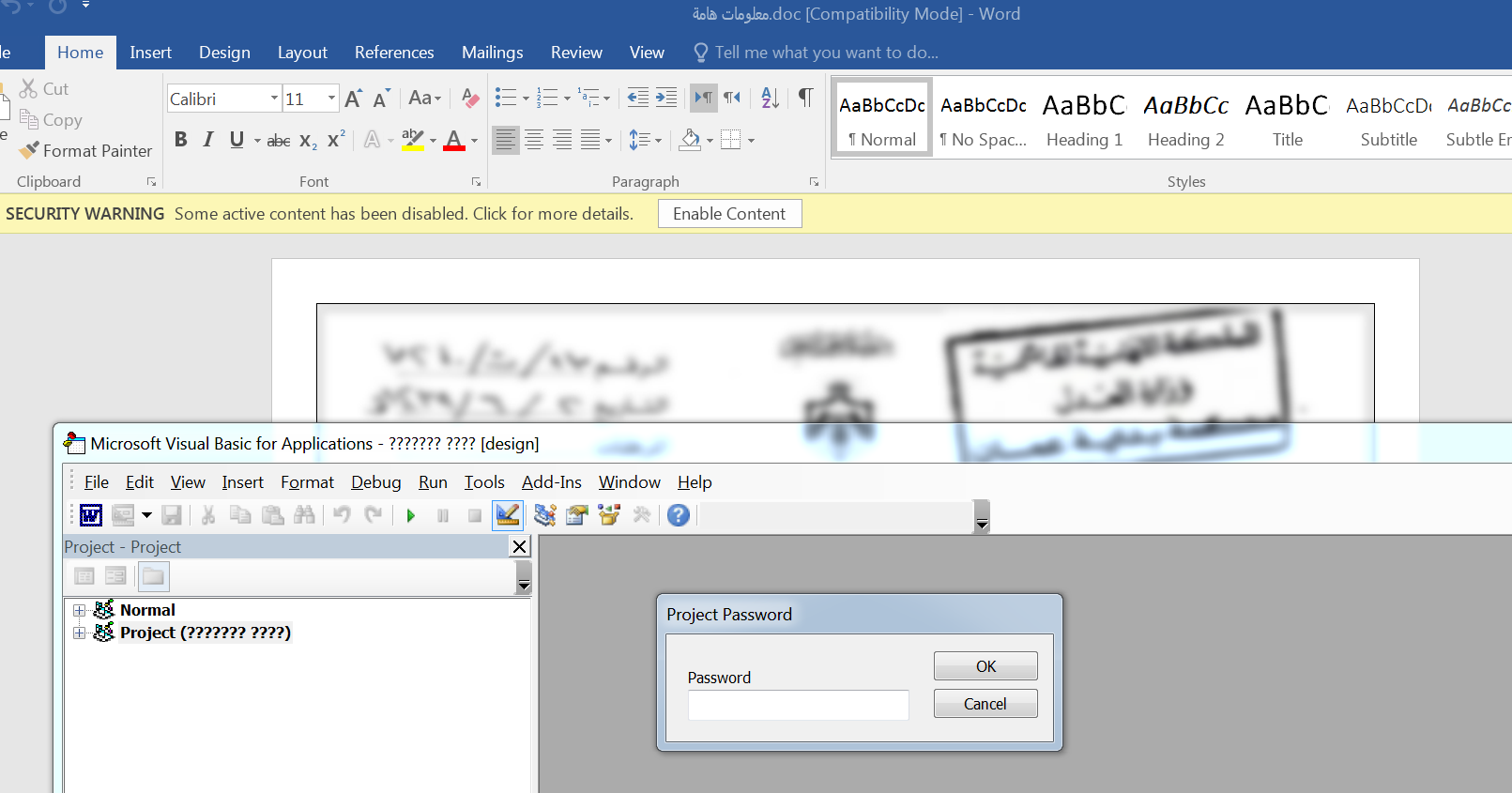 Malicious obfuscated VBA code is executed when the macro is first enabled. In some cases, the malicious macro is also executed when the user activates a fake text box.
The macro payload analysis, dropped files and registry keys
The macro payload, which is Base64 encoded, does the following:
Drops two or three files into the "
ProgramData
" folder. The dropped files are either in the root of the "
ProgramData
" folder or in a subdirectory. The file names may vary from one version of the malware to another.
\EventManager.dll
\EventManager.logs
\WindowsDefenderService.inil
Adds a registry entry in the current user's
RUN
key (HKCU) for later execution when the user next logs in. In some cases, the macro spawns the malicious payload/process instantly without waiting for the next time the user logs in. The registry keys and executables may vary from one version of the malware to another.
Name:WindowsDefenderUpdater Type:REG_EXPAND_SZ
Data:c:\windows\system32\rundll32.exe advpack.dll,LaunchINFSection C:\ProgramData\EventManager.logs,Defender,1,